Bangladesh police work to identify perpetrators of deadly Dhaka attack
Comments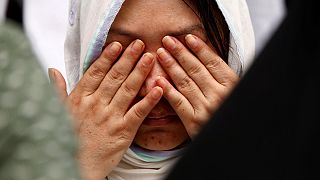 Police in Bangladesh are working to confirm the identities of a group of men who carried out a deadly attack on a restaurant in Dhaka, in which 20 hostages and two police officers were killed.
The victims' bodies have been taken to a stadium in the capital, where a memorial has been set up.
Prime Minister Sheikh Hasina met members of the victims families there, as well as the Italian and Japanese ambassadors. Nine Italians, seven Japanese, an Indian and an American were among the dead.
US Secretary of State John Kerry has offered Washington's help with the investigation.
Thirty-five hostages were taken, six attackers were killed and one person arrested. ISIL has claimed responsibility for the gun attack and local police say they are looking into any connections between the assailants and international militant groups. However Home Minister Asaduzzaman Khan has rejected the idea of ISIL involvement, saying the Islamist gunmen were homegrown and part of local group Jamaat-ul-Mujahideen Bangladesh, known as JMB.