Bangladesh ISIL attack: 20 foreigners killed, 13 hostages freed after Dhaka cafe siege ends
Comments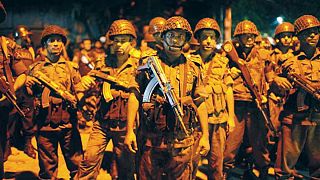 Islamist militants attacked an upscale cafe in the Bangladeshi capital Dhaka on Friday night (July 1), killing 20 foreign civilians and two police officers in a siege that ended Saturday, the Bangladeshi military said.
Several Italians were killed at the scene, Italian Prime Minister Matteo Renzi said, declining to give any details of the victims until their relatives were informed.
Thirteen people who were held hostage in the building for hours were rescued, including one Japanese and two Sri Lankans, Army Brigadier General Naim Asraf Chowdhury told reporters.
Prime Minister Sheikh Hasina earlier said six gunmen had been killed and one captured alive when dozens of commandos stormed the scene, an upscale cafe in a diplomatic area of the capital.
The attack was claimed by the group calling itself Islamic State. It marks a major escalation in a campaign by militants that had for the past year and a half mainly targeted individuals advocating a secular or liberal lifestyle in this mostly Muslim country.
The 12-hour siege began on Friday night (July 1) when a group of men wielding guns, grenades and swords burst into the Holey Artisan restaurant in the Gulshan district of Dhaka, a cafe popular with expats and diplomats.
#Dhaka restaurant attack LIVE: Six gunmen killed, 13 hostages rescued https://t.co/A6VTeygkwvpic.twitter.com/1mEbdKZFh8

— Hindustan Times (@htTweets) July 2, 2016
PHOTOS | #Dhaka hostage crisis ends, six gunmen killed, 13 hostages rescued https://t.co/5JI0EztVK1pic.twitter.com/nYURt3pI8s

— The Indian Express (@IndianExpress) July 2, 2016
Seven Japanese unaccounted for
A police officer at the scene said that when security forces tried to enter the building at the beginning of the siege, they met a hail of bullets and grenades.
The militant group calling itself Islamic State, which claimed the attack, has posted photos of what it said were dead foreigners, and said 24 people had died.
One Japanese man was among those rescued and taken to a Dhaka hospital with a gunshot wound, a Japanese government spokesman said. Seven Japanese were unaccounted for.
The cafe's supervisor, Sumon Reza, said he saw the gunmen and described them as young, in their twenties: "They couldn't be over 28 years old. Actually I saw them from a distance… they were lanky, but I saw two faces quite well. I mean, I saw them and they were not bearded."