Ten women migrants die and 107 rescued by Italian coast guard
Comments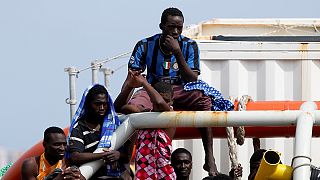 Ten women have died in a sinking migrant boat off the coast of Libya, while 107 people have been rescued, according to the Italian coast guard.
Ten women migrants die in Mediterranean, Italy's coast guard saves hundreds
Read more <a href="https://t.co/ifdHouw6l6">https://t.co/ifdHouw6l6</a> <a href="https://t.co/31vxQPZrHO">pic.twitter.com/31vxQPZrHO</a></p>&mdash; Doordarshan News (DDNewsLive) June 30, 2016
The women were found dead on a rubber boat that was taking on water.
The 107 were plucked from the same vessel as it started to capsize.
The women were suffocated under the weight of fellow migrants.