Boris backs out - Gove goes for it - May may have it as race for number 10 gets underway
Comments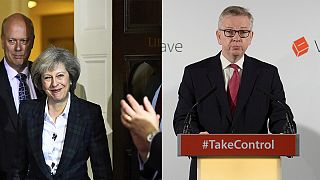 They are up and running and the prize is the key to Number 10 Downing Street. It proved to be a day of surprises as the starters flag went up for the contenders.
Home Secretary Theresa May confirmed what many had expected that she would run. She had maintained a low profile during the run up to the referendum.
The first surprise was the announcement from Justice Minister Michael Gove that he would stand.
That was topped a few hours later as the one-time favourite and close ally of Michael Gove threw in the towel. Boris Johnson had seemed to be chasing the top job since he put his weight behind the Leave campaign.
"The last thing I wanted was to go against David Cameron or the government. But after a great deal of heartache I don't think there is anything else I can do. I will be advocating "Vote Leave,"he told reporters earlier this year.
Michael Gove's late entry into the race after pledging his support to Boris Johnson has been likened to the plot of a Shakespeare play with bodies everywhere.
Gove had at one time denied he had ambitions to become PM. The former journalist was seen as the intellect behind the Leave campaign.
"Europe's leaders have put ideology ahead of security. They've pursued projects like the single currency and the borderless Schengen zone which have weakened our continent's resilience," he said at a Leave campaign rally.
The odds are starting to stack up in favour of Theresa May appointed Home Secretary in David Cameron's first cabinet in 2010.
The daughter of a Church of England clergyman is regarded as a Eurosceptic and on the right wing of the Tory Party.
But either out of belief or political calculation she joined the Remain camp alongside David Cameron but she did not actively campaign for the UK to stay within the bloc. How much could that split opinion and play against her?
"She has played what some have thought is a very canny game, in the sense of being pro-remain, but so tepidly so if you blinked you would have missed it. I wonder whether she hasn't sat on the fence to such a point that actually people aren't willing to vote for her, in the sense that she's managed to irritate both the remainers and the leavers by not committing herself wholeheartedly," opined Professor Anand Menon Professor of European Politics and European Affairs, Kings College, London
Theresa May's background contrasts sharply with that of outgoing Prime Minister David Cameron who was educated at Britain's most exclusive school, Eton College.
The 59-year-old attended a state-school. She has set out to appeal to ordinary Britons and said in the past that the government has to work for all, not just the privileged few.
Her strength she said is "getting on with the job".