US Supreme Court strikes down Texas law imposing strict regulations on abortion
Comments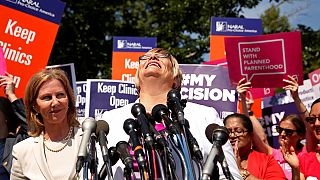 Abortion rights activists have claimed a victory after the US Supreme Court ruled in their favour striking down a Texas law which imposes strict regulations on abortion provision.
The justices voted 5-3 in favor of the argument that the regulations were a thinly veiled attempt to make it harder for women to get an abortion.
The US Supreme Court (5-3) ended #Texas#abortion restrictions that would have closed many of clinics across there! pic.twitter.com/3Q7TEH3cHw

— LikeAGirlProductions (@likeagirlinc) June 27, 2016
Justice Stephen Breyer's majority opinion for the court held that the regulations are medically unnecessary and unconstitutionally limit a woman's right to an abortion.
Texas had argued that its 2013 law and subsequent regulations were needed to protect women's health.