Thousands protest in France as Senate approves controversial labour law
Comments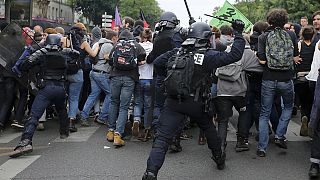 Thousands of protesters, angry about controversial labour reforms, have taken to the streets of France for the eleventh time in four months.
The changes will facilitate hiring and firing and give employers more of a say in negotiations over work and pay.
"We are confident as we've been for the last four months, it is not us who are in a position of weakness," said Philippe Martinez, Secretary General of the hardline CGT Union.
"I'll tell you again, we have the support of the majority on all levels and it's up to the government to take its responsibilities seriously. Since the weekend we've been speaking a lot about listening to the people, you know? Well now is the time, at least for the government and French president. They have the chance to do it here in France as well."
At least 39 people were arrested – many before the protest had even started.
Senate approves reformed reforms
While the rally was ongoing, the French Senate approved the bill, but not until the Conservative-leaning body had made substantial changes to make it more pro-business.
Prime Minister Manuel Valls will meet Trade Union leaders on Wednesday (June 29), ahead of another debate in the Socialist-led lower house (the National Assembly) in July.