Euro 2016: the Viking invasion continues
Comments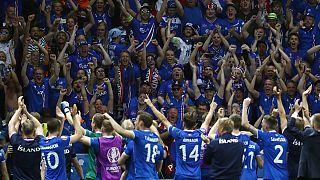 Iceland beat England 2-1
"The worst performance I have seen from an English team" – former captain, Alan Shearer
England manager Roy Hodgson resigns after match
Iceland fans in Nice could not contain their joy at beating their North Sea neighbours England in Euro 2016.
It's the age of the Vikings!
England are out of tournament, having lost 2-1 to the Nordic nation in the last-16 stage.
A significant number of the tiny island's 330,000 population have travelled to France to support their national team in Euro 2016.
What they are saying
"Oh you know the Vikings are back. It's the age of the Vikings," said one fan on the steps of the stadium in Nice.
"It was just amazing – the most amazing feeling I felt for many years since my children were born or something. It's just absolutely crazy," said another, wearing a Viking helmet.
"I am shocked, but not surprised. We have a really good team and it's absolutely the best players that we have. And they do everything for each other," added a third.
Iceland
National team ranked 34th in the world
Population 330,000
One of the world's oldest democracies – the Althing or parliament was founded by the Vikings in 930.
Is tiny (39,000 sq kilometres) but has 20 active volcanoes

Post-match turmoil
"That was the worst performance I have seen from an England team. Ever." – former England captain Alan Shearer
England manager Roy Hodgson announced his resignation after the match.
In tweets
Hear the Iceland commentator go crazy:
There's excited… + there's the Icelandic football commentator the moment they make the #Euro2016 quarter finals… https://t.co/D9VnNEJouW

—

ABC

News 24 (@ABCNews24) June 27, 2016
Watch the Iceland team salute their fans from the pitch:
And here's a video of that #Iceland collective celebration with the fans https://t.co/xP1cDpcfrl … https://t.co/b90HPmyMMO … #EURO2016

— ThePriteshRathod (@prathod2008) June 28, 2016
Party in Reykjavik! Iceland celebrates shocking win over England at #Euro2016https://t.co/QUDez82Oye

— AP Sports (@AP_Sports) June 28, 2016
Iceland heroes leave England in turmoil https://t.co/QHKfSMmXYK#EURO2016pic.twitter.com/bNZO6Ib4cD

—

AFP

news agency (@AFP) June 28, 2016