Conflicting messages from Turkey over Russian jet
Comments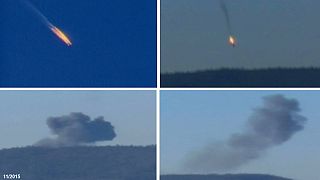 Turkey now says it will not pay compensation to Russia over the downing of a fighter jet last year.
This contradicts reports yesterday in which Ankara also expressed regret over the incident last November.
The russian bomber was shot down by the Turkish air force near the Syrian border in November 2015.
Reuters news agency says legal proceedings are underway in connection with the death of the pilot, but Ankara has dismissed talk of compensation.
Turkish President Recep Tayyip Erdogan says he expressed sadness regarding the incident in a letter to Russian President Vladimir Putin and reminded him of the potential for regional cooperation.
"I believe that we will leave behind this current situation which is to the detriment of both countries and rapidly normalise our relations," Erdogan said.
Up until now, Ankara has excluded the possibility of responsibility and compensation for Moscow in connection with the incident.
The Turkish prime minister is quoted as saying Erdogan and Putin will hold talks by telephone on Wednesday and Thursday aimed at restoring relations between their two countries.