Brexit could lead to a second independence referendum in Scotland
Comments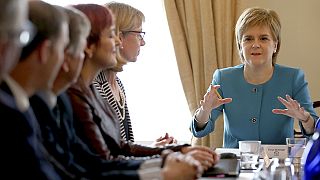 The Saltire was once again fllying above buildings as the Scots took part in their second referendum in the space of almost two years.
On June 23rd voters joined the rest of the United Kingdom of which they have been a part for three centuries in placing their vote in the European Union referendum.
The Scots bucked the overall result which showed the UK voting to leave. Sixty two percent in Scotland voted to remain within the bloc while just 38 percent wanted to leave. The vote was divided within areas of the rest of the UK.
The size of the majority and the fact it flew in the face of the rest of the UK left the Scots in a difficult position. The next day EU flags were waived by demonstrators outside the Scottish Parliament who want to remain in the EU.
It was a sentiment which was echoed by the nation's first minister who had campaigned to stay in the bloc.
"But as First Minister of Scotland I have a duty to respond not just to the outcome across the UK but also and in particular to the democratic decision taken by the people of Scotland. As things stand Scotland faces the prospect of being taken out of the EU against our will. I regard that as democratically unacceptable," she said.
And most commentators knew what was coming next. Twenty-fours later and a second referendum to break away from the UK and create an independent Scotland was put firmly on the agenda.
"A second independence referendum is clearly an option that requires to be on the table and it is very much on the table," she said.
It was almost two years ago that the Scots voted by 55 percent to 45 against independence. In the lead up to that referendum one of the arguments to remain part of the UK was its membership of the European Union. Last weeks referendum result has altered perceptions.
One survey showed that nearly 45 percent of Scots against 42 percent do not want to go to the polls again. But if they did then the result would be different with 47 percent backing independence and 41.2 voting to stay in the UK.
"I don't want another referendum, I'm sick of referendums, but having said that, if we did get another referendum, I might vote for Scottish independence next time around," said one voter.
The leader of the Scottish Conservatives warned that, "you do not dampen the shock waves of one referendum by lighting the fuse of another."
Should Scotland press to go to the polls again there will be a complex legal procedure to go through first.