Germany says UK will not be allowed to 'cherry pick' over Brexit deal
Comments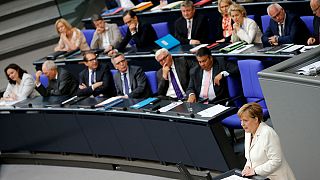 Angela Merkel has firmly quashed claims from Boris Johnson and other prominent British politicians that the UK will be able to retain access to the single market if it leaves the EU.
The German Chancellor told her parliament free access – considered vital to British jobs and the economy – is only open to countries accepting the so-called four freedoms: free movement of people; capital; goods and services.
"We will make sure that the negotiations will not follow the principle of cherry-picking. There has to be and there will be a clear distinction over whether a country wants to be a part of the EU family or not.
"Whoever decides to leave that family cannot expect all obligations to be omitted while keeping its privileges," said Merkel.
A matter of hours later, the British Chancellor of the Exchequer (Finance Minister), George Osborne, said he would not want to see the UK leave the single market.
Deal or no deal, Germany has joined the EU in wanting matters to press on quickly. A spokesman for the Foreign Ministry has said a prolonged stalemate would be costly.