Erdogan writes to Kremlin to end rift over downed jet
Comments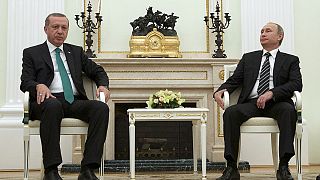 Turkish president Recep Tayyip Erdogan has written to Russian leader Vladimir Putin in a bid to end a standoff between the two nations sparked by the shooting down of a Russian plane.
A spokesman for Erdogan said the letter, which has not been published, expressed the president's sadness over the incident.
The Kremlin went further, saying the words included an apology and that Turkey said it had not intended to shoot down a Russian plane.
The incident in November shattered diplomatic ties between Ankara and Moscow.
At the time, President Putin denounced the downing of the fighter on the Syrian border as a ''treacherous stab in the back''
One of the pilots died after the aircraft was hit in airspace above the Turkish border with Syria last November. He was shot by militants on the ground after ejecting from the aircraft.
In response Russia imposed a raft of trade and travel sanctions on Turkey.
The circumstances of the incident were disputed by both sides, with Ankara arguing the aircraft had strayed into its airspace and had ignored repeated warnings.