Massive British referendum petition hijacked
Comments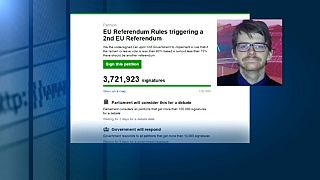 The parliamentary petition which calls for a second referendum on EU membership had been signed online an incredible 3 point seven million times by Monday afternoon.
Unfortunately for the "remainers" who are desperate to reverse the referendum result, the petition has been infiltrated by internet bots. They've been automatically adding thousands of obviously fake signatures from as far away as Antarctica.
Officials from parliament are busy removing tens of thousands of them but it's still tainted the country's biggest online petition ever.
Despite the fraud it's clear the petition has created a massive wave of protest.
Bizarrely the man who created it before the referendum, William Oliver Healey, is actually a Brexit activist. He thought, as the polls did at the time, that a close win for the remainers was the likely outcome.
And so his petition asks for a second referendum to be held if neither side reached 60 percent of the vote.
Britain's prime minister David Cameron has clearly ruled out another referendum but, since he's resigned, it's likely that his successor will ultimately have to address the petitioners' concerns.
Now petition fever has spread to Slovakia where the far right leader Nase Slovensko is urging Slovakians to sign his petition calling for a referendum on EU membership.
Back in March Slovensko's anti immigrant Our Slovakia party got 209,000 votes.
That's significant because if 350,000 Slovakians sign the petition legally a referendum must be held.
Opinion polls, for what they are worth, suggest more than 60 percent of Slovakians are firmly in favour of remaining in the EU. Polls got both Britain's referendum result and its last election result very wrong.
But, as with Britain, if a Slovakia referendum does go ahead, it's just a question of getting more than 50 percent to win.