Israel and Turkey end six-year diplomatic rift
Comments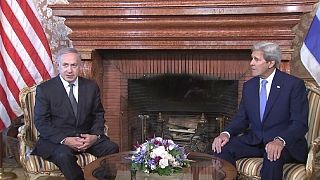 Israel and Turkey's deal to normalise ties, ending a six-year diplomatic rift, will boost the Israeli economy, Prime Minister Benjamin Netanyahu has said.
Speaking in Rome while meeting US Secretary of State John Kerry, the Israeli Prime Minister said the agreement was an 'important step'.
"I think it is an important step here to normalise relations on one side. It has also immense implications for the Israeli economy and I use that word advisedly, immense implications for the Israeli economy and I mean positive immense implications," Netanyahu said.
Relations between Israel and Turkey soured dramatically in 2010 after Israeli commandos stormed the Turkish owned ship, the Mavi Marmara, killing 10 activists on board. The vessel was part of a flotilla on its way to Gaza when it was intercepted.
In Ankara, Prime Minister Binali Yildirim said the restoration agreement would enable to Turkey to deliver aid to Gaza.
"With this deal, our relations with Israel will be normalised. After the Mavi Marmara incident, the embargo which is currently in force in Gaza will be lifted on large scale. This has been achieved through Turkish leadership. The most important thing is Israel has apologised to us about the incident in 2010."
Yildirim added that the agreement would pave the way for deeper energy ties, notably lucrative Mediterranean gas deals, and that the two countries would exchange ambassadors as soon as possible.
The package will also see Israel pay a total of around 20 million euros in compensation to the families of those killed on the Mavi Marmara.