US National Guard help rescue effort in flood-hit West Virginia
Comments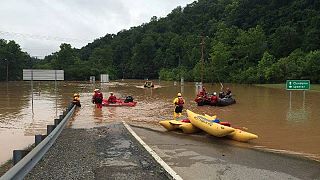 President Obama has signed a disaster declaration making federal funding available for flood victims in three counties of the US state of West Virginia, which is dealing with the aftermath of the worst flooding in over a century. At least 24 people were killed.
The clean-up has begun with the National Guard called in to help – following one disastrous day that saw a quarter of the state's usual annual rainfall in just 24 hours.
Church groups and schools have been stepping in trying to help.
"All you can do is give people a hug, a shoulder to lean on, and some food in their belly, and some things that they need for the moment and try to show 'em the love," said Tim Parsons, pastor of Grace Community Church.
"We've had some people that have come through that slept in their car last night. They had their animals and their children with them and they slept in their cars and there have been some people that just haven't been able to return to their homes at all to see what's there," said Kristin Richmond, a teacher at Talcott elementary school.
In some areas the waters have receded enough to enable rescue teams to look for some people still unaccounted for.
Many homes were destroyed; tens of thousands of others were left without power.
Four-fifths of West Virginia's counties are under a state of emergency.