Turkish police detain LGBT activists after banning Gay Pride
Comments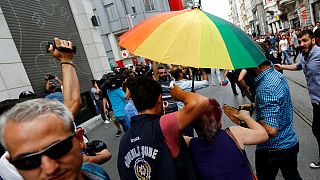 Turkish riot police have detained seven LGBT activists who dared to celebrate Gay Pride Week in Istanbul.
The police rapidly dispersed a group of activists who had gathered near Taksim square in defiance of a ban.
"I have no idea why two persons of our delegation, two young German guys, were captured. They did nothing else than every other body," said Volker Beck, a Green Party MP from Germany who was with the activists.
On Friday city officials had banned all events around Gay Pride Week which had been held in Turkey every year since 2003.
The authorities said the ban was due to security concerns.
Security in the city is already tight after a series of bombings in recent months blamed on Islamic State and Kurdish militants.
An ultra-nationalist youth group had also threatened violence if the march went ahead, calling it immoral.
But many LGBT activists believed the ban was simply motivated by homophobia and discrimination rather than safety concerns.