Russian governor Nikita Belykh held over 'large bribe' in corruption probe
Comments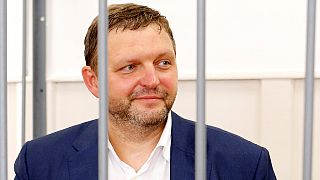 The governor of the central Russian Kirov region has been detained, "accused of accepting a 400,000 euro bribe':http://tass.ru/en/politics/884512.
Nikita Belykh is said to have taken money personally and via an intermediary in return for protecting suspicious investment business, including for a local ski factory and forest management company.
A criminal investigation has reportedly been opened.
The 41-year-old has been a critic of the Kremlin and is a former leader of an opposition party, the Union of Rightist Forces, said to back Western-style capitalism.
The party was previously led by Boris Nemtsov, an outspoken critic of Vladimir Putin who was murdered in Moscow in 2015.
A spokesman for Russia's Investigative Committee denied there was any political link to Belykh's detention.
The committee published a photo said to show the governor taking the bribe in a Moscow restaurant. The picture purports to show him sitting at a table on which piles of green 100-euro notes were laid out.
Belykh is said to be the third Russian governor to be arrested on suspicion of corruption in just over a year.
Three months from a parliamentary election and with an economic crisis raging, Kremlin critics say Russian officials are keen to keep opponents in check.