Palestinian car driver shot dead by Israeli soldiers
Comments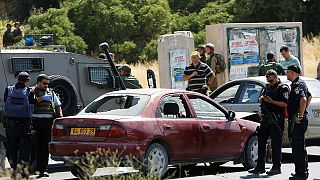 Israeli soldiers shot and killed a Palestinian woman who rammed a vehicle into a parked car near an Israeli settlement in the occupied West Bank on Friday, injuring two people sitting inside, the army said.
"Forces on site responded and fired toward the attacker, resulting in her death," a military spokeswoman said.
Palestinian officials had no immediate comment.
Palestinian knife, shooting and car ramming attacks have killed 32 Israelis and two visiting U.S. citizens over the past eight months. Israeli forces have shot dead at least 198 Palestinians, 135 of whom Israel has said were assailants. Others were killed in clashes and protests.
Religious and political tensions over a Jerusalem site sacred to both Muslims and Jews have fueled the worst wave of Israeli-Palestinian violence since the 2014 Gaza war.
Confrontations have been exacerbated by Palestinians' frustration over Israel's 48-year occupation of land they seek for an independent state and the expansion of settlements in those territories which were captured by Israel in the 1967 Middle East war.