Merkel and Hollande 'deeply regret' Britain's vote to leave the EU
Comments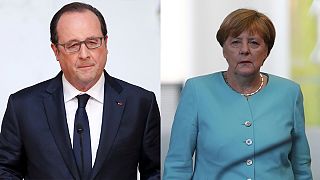 The German Chancellor Angela Merkel has said she deeply regrets the British vote to leave the EU.
But she says Europe needs to remain "calm and composed" in the wake of the UK's exit.
"Today is a blow for Europe. It is a blow for the process of European unification. What the consequences of this blow will be in the next days, weeks, months and years, is entirely dependent on whether we, the other 27 members of the European Union, will show ourselves willing and able not to jump to conclusions in this situation, and not to draw instant and simple conclusions from the referendum in Great Britain, which would only divide Europe further," the Chancellor said.
Merkel has invited senior European leaders to Berlin for talks on Monday: the European Council President Donald Tusk, Prime Minister Matteo Renzi of Italy, and Francois Hollande of France.
The French president said he deeply regretted Britain's choice.
"Today history is knocking at our door. What is at stake, is the dilution of Europe which closes in on itself. Or the reaffirmation of its existence at the cost of profound change. I will do all I can to ensure it's profound change rather than withdrawal. And France has a particular responsibility because she's at the heart of Europe, because she built Europe and because she is the country which can lead others and which guarantees the future of our continent."