Singer's murder in Karachi could see Pakistan change tune against Taliban killers
Comments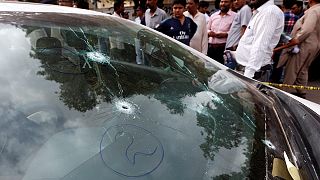 Lovers of qawwali, a chanted lyrical singing form practised by Muslim followers of Sufism, have been shocked and saddened by the murder in Karachi of Ajmad Sabri.
Saddened by #AmjadSabri murder. Devastating loss for #Pakistan and the entire world's music. Silenced by madness. pic.twitter.com/UDQQSRS158

— JeanFrançois Cautain (@JFCautainEU) 23 juin 2016
Revered among Sufis for his interpretations of divine texts, his ability to transport with his voice could carry huge audiences, and sell recordings.
He is just the latest in a string of secular and non-secular figures, teachers, lawmakers, writers or social campaigners to be cut down in Pakistan's business capital simply because their ideas clashed with the Taliban.
Inna lillahi wa'inna ilaihi raje'un. I vehemently condemn the targeted assassination of Qawwal Amjad Sabri. In… https://t.co/JPtURdOBco

— Pervez Musharraf (@P_Musharraf) 23 juin 2016
The Islamic extremists were quick to claim credit for the killing of Sabri, gunned down in broad daylight in his Honda in a busy street en route to one of his daily Ramadan concerts. For the Taliban Sufis are apostates anyway, fair game in their murderous worldview; yet Amjad Sabri's death has stirred people like few others. His voice was central to millions of Muslim's spiritual experience for almost every day of his 45 years, coming as he did from a qawwali singing dynasty.
With the climate in the city nearing one of a siege, with, for example, teaching staff now fearful of reprisals should they express certain opinions in class after a faculty member was killed by a pupil, Sabri's death could open a window of opportunity for the Sufis, and moderates.
Since qawwalis began to be performed in the 13th century their popularity has grown beyond Islam and they are now enjoyed globally, spearheaded by the emergence of the late Nusrat Fateh Ali Khan as a recording artist in the West in the 1980s.
While the Taliban abhors all kinds of music many Muslim religious conservatives also barely tolerate qawaali and distrust the Sufis, and they have been the targets of many deadly attacks in recent years, but this time there could be a considerable backlash.
Shocked at the murder of famous qawwal Amjad Sabri & his companions in Karachi. A complete failure of law & order & writ of the govt.

— Imran Khan (@ImranKhanPTI) 22 juin 2016
Public opinion may force the government to again get tough in Karachi, which since an anti-crime offensive in 2013 has seen organised gangs weakened, but targeted killings by Islamic extremists rise. The police have appeared to be unable or unwilling to crack down or catch many of those responsible.
Two years ago Sabri felt the first cold blast of intolerance when he was named in a case for blasphemy brought by a lawyer outraged at the content of qawwalis on breakfast television. It made Amjad a marked man, akin to pinning a death sentence on his back in Karachi.
Gunmen have shot dead #AmjadSabri – one of Pakistan's most famous singers – in broad daylight in Karachihttps://t.co/m6MT5sEQ3l

— Channel 4 News (@Channel4News) 22 juin 2016