Watch: Ronaldo loses it and throws microphone into lake
Comments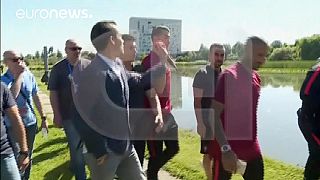 For a few days now, reporters have been wondering whether Cristiano Ronaldo was cracking under the intense weight of expectation at Euro 2016.
Today, one got the answer in emphatic style.
When a journalist from CMTV approached the striker near the team hotel in Lyon and asked how he was feeling, he found his microphone seized and launched into the lake.
Ronaldo claimed an unenviable record during Portugal's match against Hungary, racking up his 36th unsuccessful attempt on goal from a free kick.
He also missed a penalty against Austria and his team risk exiting the tournament unless they can get a result against Hungary.