UN Framework Convention on Climate Change and Paris Agreement win Asturias Award
Comments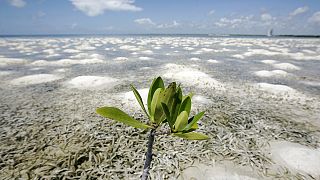 The Princess of Asturias Award for International Cooperation was announced today in Oviedo, in Northern Spain.
The jury recognise, as an historical moment, the agreement reached in Paris.

Asturias Jury President
The prestigious award, equivalent to Spain's version of the Nobel Prizes, was awarded to the United Nations Framework Convention on Climate Change and the Paris Agreement.
Jury president Marcelino Oreja said: "…for more than two decades of work, aiming to reduce human influence in the augmentation of Earth temperature…The jury recognise, as an historical moment, the agreement reached in December 2015, in Paris, where 195 countries finally compromised to find a model of universal development that will gradually reduce pollutant emissions."
The Framework Convention was an international environment treaty that opened for signature at the Earth Summit in Rio in 1992. It came into force in 1994.
The global political response to climate change began at this summit and set a call to action aimed at stabilising greenhouse gases. It became the inspiration for the 2015 Paris Climate Conference, known as COP21.
COP21 is a legally binding and universal agreement on climate change, with the aim of keeping global warming below 2 degrees celsius. France played a lead roll in this seminal conference.
Past winners of the International Cooperation award include The Scientific Committee on Antarctic Research and former US Vice President Al Gore.
Nominees this year included The Migrant Offshore Aid Station, a Malta-based organisation dedicated to preventing loss of life to refugees and migrants in distress at sea.