South Africa: riots hit Pretoria after ANC imposes local mayor candidate
Comments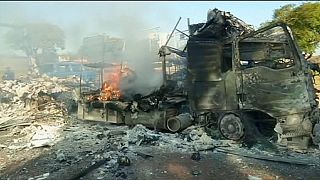 Protesters in South Africa burned buses and trucks, barricaded roads and looted shops in townships in an impoverished district of Pretoria, in a dispute over the ruling party's candidate for local mayor.
The ANC's national leadership imposed a contender for municipal elections in August who had not been nominated by its regional branches.
The dispute flared at the weekend after an ANC member was shot dead as party factions met to decide on a candidate for the Tshwane district.
Many Twshane residents want the incumbent mayor, Kgosientso Ramokgopa, to be allowed to run on the ANC ticket.
"It's our party, ANC… The people are not happy with the decisions that our government is taking. So, they must just sit down, resolve all the issues, do the right things and they must put back Mr Ramokgopa where he belongs," said resident Edward Matsheke.
The ANC's secretary general said its members were not behind the violence which he condemned as "thuggery".
The party has been in power since 1994 but critics say it's losing its touch amid record unemployment and a looming recession.