Rio 2016: Jaguar shot dead at Olympic torch ceremony
Comments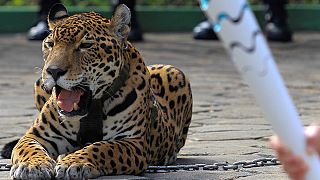 A jaguar has been shot dead shortly after an Olympic torch ceremony in Brazil.
The female – named Juma – escaped its handlers after the event in Manaus.
Despite firing four tranquiliser darts the cat was reportedly shot when she attacked a solider.
Animal rights campaigners have criticised the stunt, whilst organisers for the Rio Games also admitted it was a mistake to chain the wild animal next to the Olympic touch.