March climbdown adds humiliation to French Socialists' union worries
Comments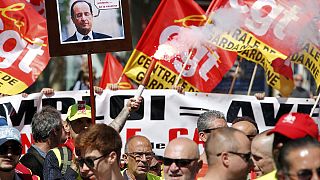 France is wound up tight right now, there is a terrorist threat, the Euro football tournament and social unrest, and there is heavy security everywhere. In Paris alone 20,000 soldiers, police and security officers have been mobilised.
In these conditions, the planned national demonstration against the new Labour laws complicates matters as crowds can lead to violence, and marches can be infiltrated by people bent on violence and destruction. It has already happened, which is why the authorities wanted to ban Thursday's Paris rally.
At first the organising trade unions wanted to march from the Bastille to la Nation. Paris police proposed a static demonstration. Two days of difficult talks followed without agreement.
As both parties failed to agree the state representative, the Prefect, cancelled the march's permit. That has shaken the political class as it was the first time a national march called by trades unions had been banned since 1962. This was the fatal Day for Peace in Algeria called by the CGT union, in the vanguard of the present unrest, when nine people died in Paris.
Prefect of police at the time was Maurice Papon, who earlier had orchestrated the death of officially 40, unofficially at least 300 Algerians on a peaceful march, when many were pushed into the river Seine.
The French Constitution does not enshrine the right to demonstrate; that is in the Universal Declaration of the Rights of Man. In any case, the government crumbled on Wednesday, allowing the march to go ahead legally.
In article 431-1 of the penal code it states: "Anyone who either alone or in a concerted manner threatens the exercise of freedom of expression, work, association or gathering shall be punished".
A 1935 decree established the rules governing protests, including three to 15 days' notification with local authorities stating the aims, route, date and names of the organisers.
It also states the authorities reserve the right to ban a march if there is a public order issue.
Organisers have a right to appeal a ban in the administrative courts and obtain a decision from the State Council. If the ban is then ignored organisers can expect fines up to 7,500 euros plus 11 euros per person at the demonstration, and a year in jail.
The attempt to ban the march, even if legal, has already had consequences. France's biggest trade union has been alerted and angered by a Socialist government it feels should stand alongside it. The political fallout could be very damaging.