Police break up fights between Polish football fans in Marseille
Comments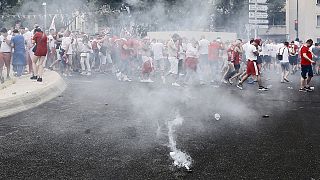 Police using tear gas, pepper spray and batons broke up fights between Polish soccer fans in the southern French city of Marseille on Tuesday (June 21), detaining several of them ahead of Poland's final Euro 2016 group stage match against Ukraine.
Thousands of Polish supporters swarmed through the narrow streets of the city's Vieux Port (Old Port) district, drinking, chanting and letting off smoke bombs before the match.
Fighting erupted suddenly among a group of hardcore Polish fans and was swiftly quelled by police deployed around the waterfront.
Officers led supporters away in handcuffs, two of them near the harbour and later near the stadium, according to a Reuters photographer. A police official said the fights involved rival Polish hooligan groups.
Marseille authorities deployed about 1,000 police and 200 private security agents for the match. A surveillance helicopter hovered over the fan zone close to the stadium.
Kick-off time was 18.00 CET. Poland needed at least a draw to qualify for the knockout phase.
Fan violence marred the opening days of the tournament and forced European soccer's governing body UEFA to threaten England and Russia with expulsion from the championship. But disturbances have largely subsided in recent days.
In the southwestern French city of Bordeaux, Irish supporters, who have endeared themselves to the French with their warm-hearted banter, serenaded officers with chants of: "Stand up for the French police."
And in Paris, German and Northern Ireland fans marched, chanting and drinking beer, to the stadium where their teams were to face off at 18.00 CET.
UEFA fined the Hungarian soccer federation 65,000 euros for crowd trouble at Euro 2016, the European football's governing body said on Tuesday.
The charges related to "crowd disturbances, setting off of fireworks and throwing of objects" during the 1-1 draw against Iceland in Marseille on Saturday.
Reuters