PM Modi bends over backwards to mark International Yoga Day
Comments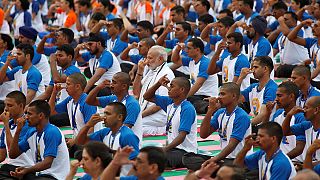 Indian Prime Minister Narendra Modi has led 30,000 people in a mass yoga demonstration to mark International Yoga Day.
Yoga is not about what one will get, it is about what one can give up

Indian Prime Minister
PM Modi calims India has not claimed intellectual property rights on yoga https://t.co/TSKWur5vE8#yoga#lawpic.twitter.com/9fZQDSSjfb

— Grace Pinault (@GracePinault) June 9, 2016
LIVE: Yoga is the health insurance with zero budget, says PM Modi #YogaDay#IYD2016https://t.co/XeLH8pDRpTpic.twitter.com/n7bev4iL6e

— India TV (@indiatvnews) June 21, 2016
Underlining the importance of yoga, Modi said it "gives us health insurance at zero budget" and added that it is "not about what one will get, it is about what one can give up."
More than 191 countries are taking part in the celebration, including the UK Argentina and Australia.
The United Nations headquarters were illuminated at the weekend with striking images of yoga postures while hundreds gathered at Times Square in New York City to practise yoga.
Functions across the world were held for the first time last year after June 21 was named the International Yoga Day by the United Nations.
Many believe that yoga, the ancient form of exercise from India, is the best way to calm the mind and the best form of exercise for the body.