Mexico teachers resume protests after clashes kill eight
Comments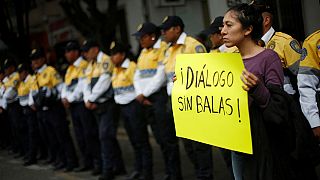 Defiant teachers returned to the streets in Oaxaca to protest against education reforms in Mexico, one day after violence with police killed eight and injured more than 50 people.
The police need to go back to their stations because Oaxaca is not at war

CNTE teachers union.
Carrying a makeshift coffin the teachers brandished placards denouncing government repression.
Teachers and their supporters want police to leave the streets, arguing that they are protesting peacefully.
"We don't want anymore massacres. We don't want repression. The police need to go back to their stations because Oaxaca is not at war. We're protesting peacefully, expressing what we think is not good. This is why we demand negotiations where we can have a debate," said Juan Garcia of the CNTE teachers union.
Police Clash w Teachers in #Oaxaca, Citizen Journalists Step Up to Challenge the Government https://t.co/0bq74956rEpic.twitter.com/AZlxtFqcWu

—

REMEZCLA

(@REMEZCLA) June 20, 2016
Just to give y'all a scale of what's been going on in Oaxaca. pic.twitter.com/cKjJdj0CTQ

— Dirty Thirty Tony (@MexicAnarchist) June 20, 2016
In Mexico City, teachers and their supporters came out in protest in a show of solidarity with their colleagues in Oaxaca.
Last week, Mexico's government arrested Ruben Nunez, the leader of a dissident teachers' union, for alleged corruption. The move was seen by many as political.
The education reform in Mexico seeks to improve teaching standards in the country, which lags behind all members of the OECD. The reform stipulates that teachers should be tested periodically to ensure they are up to standard. New teachers could lose their teaching jobs if they fail.
Although passed in 2013, stiff resistance from teachers refusing to comply continues.