Sunset vigil held for victims of Orlando massacre
Comments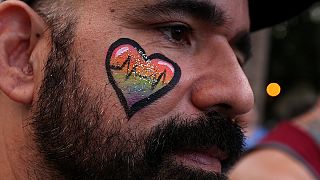 US officials are to release transcripts of phone calls made to emergency 911 operators by gunman Omar Mateen during his shooting rampage in Orlando.
Mateen is said to have repeatedly paused during his three-hour siege to make the calls and post internet messages from inside the gay nightclub.
One week on and a sunset vigil has been held for the 49 people who died in the massacre.
The commemoration took place as more details about the investigation were released.
Law enforcement officials confirmed that Mateen had made premeditated plans before the attack and had texted his wife multiple times during the standoff with police.
The Senate is set to vote on measures to expand background checks on gun buyers and curb gun sales for people on terrorism watch lists.