Scotland views EU vote with uncertainty
Comments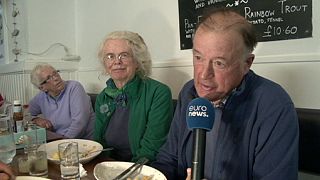 Scotland could play a 'pivotal role in keeping the UK inside the EU. Polls suggest Scots are in favour of the bloc by a majority of two to one and a close vote for Remain could be thanks to Scottish enthusiasm for membership.
But if the outcome does go the other way some experts claim an English-backed vote to leave could reignite the independence issue.
''We are much stronger together. Britain is no longer a world power. We are a small offshore island, our economy is no more that clever. And I don't see how we are going to survive or flourish very well on our own," said one Oban resident.
Paulina Sienicka who originates from Poland but is now a Scottish citizen, has strongly held views on leaving the EU.
''We shouldn't be forced to take people to our home country. They take our benefits, money, everything, houses. I think that people that live in the country should come first. Not the refugees. They just come here for benefits, and that's why I think we should leave the EU.''
Whatever the outcome the country will still be bound by the result of the referendum regardless.
Our reporter Julian Lopez said:
''The majority of political analysts say the referendum campaign is influenced by Scotland's own particular concerns. Scotland's prime minister has declared that in the case of Brexit victory Scotland will organise a new vote on its independence, and this time the results could be very different from the one obtained two years ago.''