Russia: at least 13 children die in summer boat trip
Comments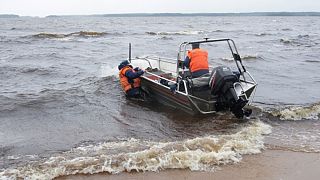 In Russia, at least thirteen children have died after boats capsized in stormy weather on a lake in the northwest of the country.
Five people have been arrested and an investigation launched amid allegations the children were not wearing life jackets.
Questions are also being asked into how the children were allowed to go on lake Syamozero, a popular tourist destination, despite several warnings of bad weather.
Alexander Hudilainen, Karelia Republic Governor said: ''Certainly, this boating trip was planned. But I'm sorry to say, with the wind speed, and with waves of around one and a half metres, not a single grown person with any common sense would have gone on the water, not even a small lake, let alone Lake Syamozero."
The incident took place in Russia's north-western Republic of Karelia, near the border with Finland.
In Moscow, where many of the children were from, parents rushed to a specially set up crisis centre for news.
When asked one mother said she had no news as to whether her son was dead or alive.
"They phoned us and said our son's name was not on the list of those who were rescued. But that doesn't necessarily mean anything," she said.
The victims were among a party of 47 children and four adults.
Most are believed to have died from long exposure to the cold water.