Croatia lawmakers vote to dissolve parliament amid political crisis
Comments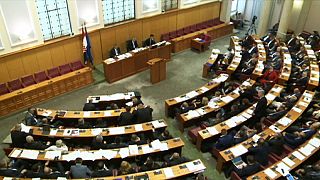 Croatian lawmakers have voted to dissolve parliament, paving the way for a snap election.
It followed a no-confidence vote in Croatian Prime Minister Tihomir Oreskovic last Thursday.
The conservative HDZ party, the biggest in Croatia's ruling coalition, helped install Oreskovic as PM just five months ago.
But then put forward the motion for the no-confidence vote after falling out with Oreskovic over HDZ leader Tomislav Karamarko.
The Croatian parliament's Commission for Conflicts of Interest had ruled that Karamarko was in conflict regarding his ties to a lobbyist for energy company.
Karamarko resigned as deputy prime minister last week.
Analysts have warned that the election could delay the implementation of badly-needed reforms in Croatia, which is one of the weakest EU economies.
The election must take place no earlier than 30 days and no later than 60 days after the dissolution of parliament, which is expected to happen on 15 July.