At least six die and scores are injured in Mexico teacher protests
Comments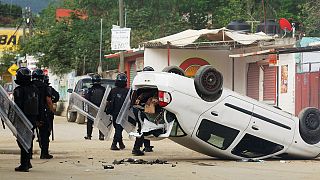 What is happening?
At least six people have been killed and 100 injured in southern Mexico during clashes between members of a teachers' trade union and police.
The violence erupted as hundreds of riot police moved in to dislodge protesters blocking a highway in the southern state of Oaxaca.
Tear gas was fired at the crowd.
The numbers so far
Six civilians killed
108 people injured
55 are police officers
53 are civilians
21 people arrested

Is this the first time the teachers are protesting?
No.
The protest on Sunday near the town of Nochixtlan, 80 kilometres northwest of Oaxaca City, has been going on for a week now.
Three dead, dozens injured in #Mexico teachers protest https://t.co/hyyEOpIxfn#Oaxacapic.twitter.com/SwBg3csZEz

— dwnews (dwnews) <a href="https://twitter.com/dwnews/status/744754925532393472">June 20, 2016</a></blockquote> <script async src="//platform.twitter.com/widgets.js" charset="utf-8"></script> </p> <p> <blockquote class="twitter-tweet" data-lang="en"align="center"><p lang="en" dir="ltr">This is happening right now in Oaxaca, Mexico, teachers fight and protest against the educational reform. <a href="https://twitter.com/CBCNews">CBCNews pic.twitter.com/jRcTykOFCv— 何塞 迪马斯 (@DimasRodeela) June 19, 2016
Roads have been blocked with burning tyres.
A nearby oil refinery had warned it could be forced to suspend operations if the highway blockade persisted.
What are the teachers angry about?
The unrest escalated after the leader of the local teacher's union was arrested last weekend.
Dictan formal prisión a Rubén Núñez, líder de la #CNTE en #Oaxaca -> https://t.co/RLft5X8XCApic.twitter.com/fcgzozna04

— La Jornada (@lajornadaonline) June 18, 2016
Ruben Nunez, who is head of one of the most militant factions of Mexico's CNTE union, was detained on suspicion of corruption.
Nunez is secretary general of the Oaxaca-based Section 22 branch of the CNTE.
They are vehemently opposed to the government's efforts to reform the education system.
What are the police saying?
The police say the demonstration was infiltrated by armed individuals who shot at officers and threw petrol bombs.
Enrique Galindo, the head of Mexico's federal police, says masked individuals who were not affiliated to the union were behind much of the violence.
State Governor Gabino Cue gave the casualty figures and said most of those who died were young people.
Only two, he said, had "links to the union".