5-star women: the new female mayors of Rome and Turin
Comments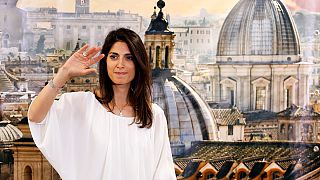 Meet the new face of Rome: 37-year-old Virginia Raggi, the Italian capital's first female mayor.
New era ... after 20 years of bad politics
A breakthrough for 5-Star anti-establishment movement, Raggi's victory a blow Prime Minister Matteo Renzi and his Democratic Party (PD).
Raggi, who won 67 percent of the vote in the run-off ballot, has hailed the start of a "new era."
"We will work to restore legality and transparency inside the institutions after 20 years of bad politics and 'Mafia Capitale'," she said.
A riveder le Stelle! pic.twitter.com/zHbwg2Xm2Y

— Virginia Raggi (@virginiaraggi) June 19, 2016
The result in Turin, a centre-left stronghold and home of carmaker Fiat, was a also major shock.
The incumbent, Piero Fassino, a veteran party heavyweight, was swept aside by 5-Star candidate Chiara Appendino, 31, who overturned an 11-point gap after the first round to win 55 percent of the vote.
Fatto. Voi? :)
ricordate: si vota entrole ore 23 mettendosolo unaX sulnome#amministrative2016#elezionicomunalipic.twitter.com/qPtf6khyXx

— ChiaraAppendino(@c_appendino) June19, 2016 Five Star's success in Rome and Turin is being seen a potential springboard to gains in the national elections in 2018.

Renzi's PD held on to power in Italy's financial capital Milan and in the northern city of Bologna, beating more traditional, centre-right candidates in both places.

Turnout in the local elections was also low, indicating a growing disillusionment with politics in general.

So the challenges are stacking up for Renzi, who wants Italians to back wide-reaching constitutional reforms in a referendum in October.