Three men charged in Belgium with terror offences after police raids
Comments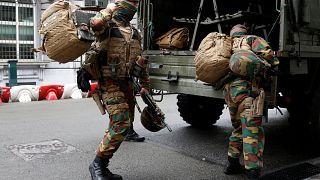 Three men have been charged in Belgium with attempted murder linked to terrorism after a series of overnight police raids amid heightened security three months after the attacks in the city that killed 32 people.
The three were among 40 people detained on the eve of Belgium's football match against Ireland at the Euro tournament in France. Also charged with taking part in "the activities of a terrorist group", they were remanded in custody. Nine people who were held during the day on Saturday were later released.
Earlier the government's security council met, chaired by the prime minister who later said events related to the Euro 2016 football tournament would go on as planned with extra security measures.
The situation was under control and life should go on as normal, Charles Michel told a news conference.
The private Flemish broadcaster VFM said the threat targeted in particular the "fan zones" where supporters could gather to watch matches on big screens.
The security operation did not stop thousands of fans from turning out to enjoy the country's 3-0 victory.