'Situation under control', says Belgian PM after Euro 2016 anti-terror raids
Comments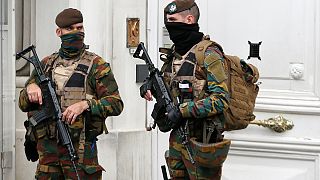 Three months after bombers caused carnage in Brussels in the name of political Islam, Belgian police have arrested 12 suspects in a major overnight operation – it's thought over security alerts linked to the Euro 2016 football tournament.
Those detained were among 40 people taken in for questioning.
The raids took place notably in the districts of Molenbeek, Schaerbeek and Forest, three areas which those who planned the Brussels and Paris attacks had used as bases.
Belgian media suggest an attack was being planned in Brussels, possibly on fan zones.
The government's security council met on Saturday morning – including the ministers of defence, justice, home affairs and foreign affairs.
Afterwards the prime minister addressed a news conference.
"We considered on the basis of the crisis centre advice that we had to maintain the events and I want to recall again what I have said many times, we want to continue living normally. Let's live normally. The situation is under control. The work of the investigators is functioning properly. You've seen that searches took place which enabled investigators to do their work in the fight against terrorism to prevent attacks," Charles Michel told the assembled journalists.
As Belgian fans partied in Bordeaux before the team's match against Ireland, the private Flemish broadcaster VTM said those arrested were suspected of planning an attack in Brussels.
Citing a security source, the Le Soir newspaper said crowded areas including places where fans watch matches were potential targets.
No details have been released about the identities of those in custody or any items seized after the overnight raids.
However no arms or explosives are said to have been recovered.
ISIL suicide bombings in Brussels in March killed 32 people at its airport and in a metro station.