Interview with UN Secretary-General Ban Ki-moon
Comments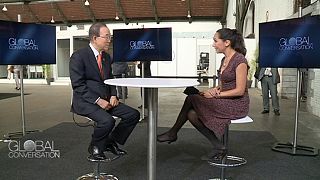 euronews' Isabelle Kumar met with UN Secretary-General Ban Ki-moon at the European Development Days, held in Brussles on the 15-16 June.
I have been trying to be the voice of voiceless people...

UN Secretary-General
Isabelle Kumar
Your term is soon drawing to a close so we're going to be discussing the successes that you've had, but also the challenges and priorities that remain.
Ban Ki-moon
Yes.
Isabelle Kumar
It does seem that the world is in a state of paralysis at the moment, bombarded with so many different crises and events around the world. Would you say we are navigating uncharted territory at the moment?
Ban Ki-moon
It's true that we are living in a world of peril and many challenges, including mass movement of refugees and migrants and terrorism here and there, but at the same time we should have a positive future. The world leaders have set out very important vigilance and commitment associated with development goals, with the 17 goals [Sustainable Development], and the Paris Agreement on Climate Change.
---
Biography: Ban Ki-moon
Ban Ki-moon is the eighth Secretary-General of the United Nations
He will have served two terms as Secretary-General
Ban Ki-moon's term as Secretary-General will end in December 2016
The Secretary-General was born in the Republic of Korea on 13 June 1944

---
Isabelle Kumar
The Islamic State terrorist group seems to be stealing a lot of that hope. Can the United Nations play a role in dealing with this phenomenon?
Ban Ki-moon
In 2006, the United Nations General Assembly adopted a very ambitious and comprehensive UN Global Counter-Terrorism Strategy.
Isabelle Kumar
It doesn't seem to be working…
Ban Ki-moon
Now my job, my priority, is to make this work. That's why, last month, I presented to the General Assembly of the United Nations my plan of action, a very comprehensive action to prevent violent extremism. It's now in the hands of member states, it's now being negotiated, and I hope that this will be adopted soon by the member states.
Isabelle Kumar
But if we are in this situation though it's because the war in Syria continues, it rumbles on. The United Nations is caught between the US and Russia. Can you forge a position there to make progress in Syria?
Ban Ki-moon
I am asking United States and Russia as co-chair of the International Syria Support Group, ISSG, to do much more. First of all, address all these issues through political negotiation…
Isabelle Kumar
But we do get the impression that the time for diplomacy is over, it's dead. There have been so many attempts, so if diplomacy doesn't work – what next?
Ban Ki-moon
There are three areas we have to address when it comes to all crises, including Syria. First of all, we have to address and stop this violence so that we will be able to deliver humanitarian assistance to millions of people. We have to deliver life-saving assistance. At the same time, we have to address all these issues through inclusive political dialogue.
Isabelle Kumar
Do you think there will be a breakthrough before the end of your mandate?
Ban Ki-moon
Our deadline is August, August 1. It seems to be very ambitious, we have less than two months now, we have to use up all our efforts and creative and practical initiatives.
Isabelle Kumar
If we switch geographical locations, and we are here in Europe now, we see Europe torn apart by multiple crises. If Europe continues on the same course that it is on now, how do you see the future of Europe?
Ban Ki-moon
I understand the enormity of the challenges European countries are facing, particularly caused by massive movement of refugees and migrants. This seems to be a crisis of numbers, how many thousands or tens of thousands of people… But it is a matter of global solidarity and compassion.
Isabelle Kumar
Which seems to be lacking these days.
Ban Ki-moon
It is lacking. On September 19th I have proposed to have a summit meeting at the United Nations and I am sure that all the leaders of the world will come, including European leaders. We are going to first of all address what are the root causes of this, how we can protect the human dignity and human rights of refugees, and how to have them integrate into the society by opening up more legal pathways. And we should also appreciate the valuable contribution these refugees and migrants can provide to the communities.
Isabelle Kumar
When you speak of unity, one of the few times the world has been unified was with the Paris Climate Agreement. Would you say that's been the greatest achievement of your mandate?
Ban Ki-moon
This is by any standard one of the proudest moments for me, exerting all my energy and passion to have this climate change agreement.
When I assumed my post as Secretary-General there was not much discussion about climate change, even some of our senior staff advised me that this is too complicated, politically too risky – you may fail. At that time I was saying that we do not have any 'plan b' because we do not have 'planet b'.
Isabelle Kumar
Are you concerned then with the election in the United States. Could that derail it if, for example, Donald Trump were elected president – he is against the Paris agreement.
Ban Ki-moon
I do not want to make any comment to presumptive … one of the presumptive presidential candidates of the United States, but the debate on whether climate change is really happening or not is well over, we are behind the debate.
Isabelle Kumar
But could the agreement be derailed?
Ban Ki-moon
It is over now. The world has made it quite clear that climate change is happening much, much faster than one may expect. This is a treaty agreement and a commitment and I am sure that the US will continue to create important work, whoever becomes the leader.
Isabelle Kumar
Finally, how do you rate your term in office? Do you think you have been a good UN Secretary-General?
Ban Ki-moon
This will be judged by historians and by the world, but as far as I am concerned, I have been devoting all my time and energy and my passion to work together with the member states to make this world better, in terms of sustainable development, climate change, gender empowerment and youth empowerment. This is what I have been doing and I have been meeting all sorts of different people. I have been trying to be the voice of voiceless people and defender of defenceless people around the world.