Syria: US diplomats urge anti-Assad military strikes
Comments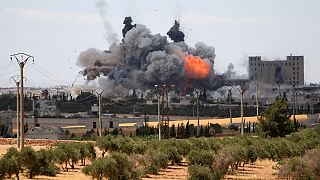 As US-led air power pounds ISIL in Syria, dozens of State Department officials want the Assad regime to feel the force of American military might.
As reported in the Wall Street Journal, more than 50 US diplomats have signed a confidential, internal memo sharply critical of current policy. The document urges 'targeted strikes' against Syria's government to stop its persistent violations of a ceasefire brokered earlier this year.
While the United States has called on President Assad to step down, Barack Obama has been reluctant to deepen Washington's involvement in the civil war.
One US official, who did not sign the cable but has read it, told Reuters the cable was unlikely to alter that, or shift Obama's focus from the battle against the persistent and spreading threat posed by ISIL.
A second source, who had read the cable and spoke on condition of anonymity, said it reflected the views of US officials who have worked on Syria, some of them for years, and who believe the current policy is ineffective.
Dozens of American diplomats call for strikes against President Assad's government in Syria. https://t.co/aJ5AWk0q2cpic.twitter.com/VNu9sp9TT7

— New York Times World (@nytimesworld) 17 juin 2016