Hollande pays tribute to police couple murdered in terror attack
Comments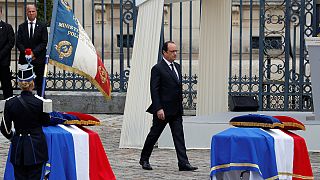 A memorial ceremony has been held in Versailles for the French police couple murdered last Monday at their home in Magnanville, west of Paris.
Several hundred officers were present – some in an extremely distressed state – to remember Jessica Schneider and Jean-Baptiste Salvaing, who were stabbed to death by an man who pledged allegiance to the self-styled Islamic State group.
Their three-year old son was taken hostage and found shocked but unharmed after police stormed the house and killed the attacker.
President Hollande paid tribute to the murdered couple.
"Two everyday heroes, a man and a woman who shared the same life, who made a home, and who lovingly brought up their young son Matthieu, three years old. For us it is unbearable to think that their very promising existence was brutally wiped out, victims of a terrorist consumed by hate," Hollande said during his address.
French police have had to deal with a state of emergency in place since last November's Paris attacks, a high security alert for Euro 2016 and a series of strikes and protests.
One officer poignantly refused to shake the hands of the president and Prime Minister Manuel Valls in an apparent protest at a lack of resources.