Hundreds are arrested in Venezuela during food riots and looting
Comments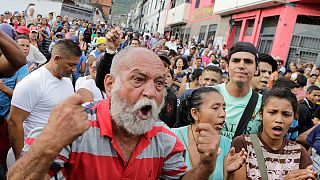 Security forces in Venezuela have arrested at least 400 people after the latest bout of looting and food riots sweeping the country.
On Tuesday (June 14) violence engulfed the eastern Caribbean coastal town of Cumana as looters swarmed through dozens of shops and security forces struggled to maintain control.
Venezuela lootings, food protests leave three dead in past week https://t.co/Tu6hB7c9qlpic.twitter.com/mkQVeo3I3W

—

DZRH

NEWS

(@dzrhnews) June 14, 2016
A youth was shot dead in the state of Merida bringing the total of deaths to four in the past two weeks during what's thought to have been confrontations between looters and police.
#Venezuela Maduro and his predecessor Hugo Chavez are to blame for failed socialist economic policies. #shortagespic.twitter.com/0vGyLNCKuV

— Michael Welling (@WellingMichael) June 15, 2016
Opposition parties blame the failed socialist policies of President Nicolas Maduro and his predecessor Hugo Chavez for the OPEC nation's economic implosion.
Maduro who has rejected their for a referendum to remove him accuses his critics of waging an economic war to force a coup.
The crisis has forced the Organisation of American States to call for an emergency meeting to discuss the Venezuela.
The US says it is sending an envoy to try and foster a dialogue between Venezuela's government and the opposition.