France to deport 20 Russian fans over Euro 2016 violence
Comments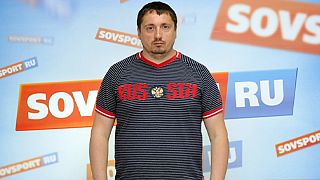 France is deporting Alexander Shprygin, the leader of the All-Russia Supporters Union, and 19 other Russian fans.
It follows violence at the England-Russia Euro 2016 match in Marseille on Saturday.
European football's governing body UEFA has said Russia will be disqualified from Euro 2016 if its fans cause further trouble.
In Lille, some Russian fans told reporters that the violence in Marseille has not been presented fairly.
"What the English say is that it was the Russian fans who provoked, but it's simply not true," said Nikita Farmashenski.
Another Russian football supporter, who gave only his first name, Vladimir – said that England fans had thrown euro coins at him and his child during the Marseille match.
Russian government sources have been quoted as saying that a blacklist of troublemakers will be drawn up ahead of the 2018 World Cup, which Russia is hosting.