Brexit boost - polls show Leave lead a week before EU referendum
Comments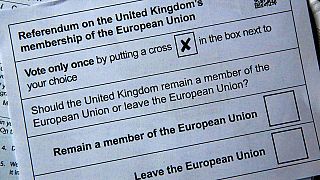 With exactly one week to go before the UK holds a referendum on its EU membership, several polls have shown a swing to those wishing to quit the bloc.
The latest surveys will be a boost for Brexit campaigners who appear to be hitting home on key issues, like immigration, while Remain, and its warnings over the economy, seem to be floundering.
While the polls make grim reading for pro-Europeans one Paris based organisation has waded into the debate. The latest spoof cartoon by 'Europeans without Borders' depicts a gloomy aftermath for Britain should it vote 'Out' on June 23. It predicts a possible break-up of the UK with Scotland eventually rejoining the EU.
Head of 'Europeans Without Borders', Philippe Cayla said: ''Very clearly there are two kinds of reactions — one which some Brits would think, British leaders would think, that really being part of Europe will strengthen the position of the UK with regard to the rest of the world, and others who think that, as one of them said, the world is their oyster and that they can deal by themselves with big countries like the US and China. Despite the fact that Obama clearly said that a trade agreement with the UK will not be a priority for them if they (the UK) were not part of Europe."
European Council President Donald Tusk has also voiced his growing concern over the latest swing in the polls towards a possible Brexit.
On Thursday, he once again warned that the consequences of the UK leaving the EU would be both dangerous for Britain and the rest of Europe.