Euro 2016: Lille braced for trouble as English and Russian fans converge
Comments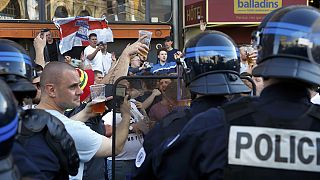 Slovakian supporters celebrated their team's 2-1 victory over Russia on Wednesday evening, following the Euro 2016 match between the two sides in Lille.
Both sets of fans stayed clear of the kind of trouble which has so far marred the tournament. Despite that, fears of further disturbances in the Northern French city were high.
Reporting from Lille, Euronews Andrei Beketov said: ''When Russia was trailing two zero during the match, its supporters were downbeat but when they almost equalised and they still lost they became frustrated and angry. They're now expected in the centre of Lille where large numbers of English and Welsh fans are waiting. There are fears they will want to settle a score and seek revenge on the Russians for what happened in Marseilles over the weekend. The situation is explosive and we are already hearing about some clashes.''
Earlier on Wednesday, in what is becoming a familiar scene, French riot police charged a group of up to 300 English fans inside Lille city centre.
Tear gas was used to disperse the crowd as a number of loud bangs were heard. .
Several people were reported to have been injured in the scuffles.