Euro 2016: Last chance for Russia after UEFA hands out 'suspended disqualification'.
Comments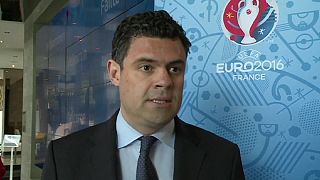 Russia will be kicked out of Euro 2016 if there is a repeat of the crowd trouble seen against England in Marseilles, UEFA has ruled.
There were ugly scenes after the final whistle of the 1-1 draw in the Stade Velodrome on Saturday when Russian supporters broke through security to attack English fans.
"This disqualification is suspended until the end of the tournament. Such suspension could be lifted if incidents of a similar nature – this is crowd disturbances – occur inside the stadium at any of the remaining matches of the Russian team during the tournament." UEFA's Pedro Pinto said.
European football's governing body also issued the Russian Football Union with 150,000 euro fine for the disturbances inside the stadium in Marseilles.
There are fears of further violence with both sets of supporters expected in Lille later this week.
England were also threatened with disqualification from the tournament but not formally charged.
Russia's Artem Dzyuba responded to the penalty by saying English fans, some of whom have been jailed, were no angels.
"It is impossible that only one side is guilty in conflict, while all the others are victims. I think both teams should keep an eye on their own supporters and get their message through to them. Russians should not be blamed solely for this," Dzyuba said.
France appears set to deport some supporters after Prime Minister Manuel Valls said 'some people cannot stay on national territory.'
On Tuesday, riot police stopped a bus carrying dozens of Russian fans in the town of Mandelieu near Cannes.