Euro 2016: French cities restrict alcohol in bid to end hooligan violence
Comments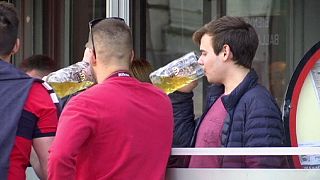 An alcohol ban has come into force in Lille and other major French cities in a bid to curb the violence which has so far marred Euro 2016.
With Russia set to play Slovakia in the Northern French city on Wednesday and England and Wales playing in neighbouring Lens, concerns of further unrest are high.
Welsh and English fans gathering in Lille ahead of their encounter on Thursday criticised the restrictions.
"I think the ban is a bit stupid, and I think the French police are a bit silly banning the alcohol," said Welsh fan James Kamoth.
"Have everybody, here, today been well behaved?…..''We're all having fun man, it's a happy atmosphere," England fan Steven Hall said.
Despite that party mood, there was fresh trouble at a bar near the Lille's central station on Tuesday.
Footage appeared to show a small group of Russian supporters provoke several English and Welsh fans who responded by throwing chairs before police moved in.