Clashes in Paris as 'one million march' against labour reforms
Comments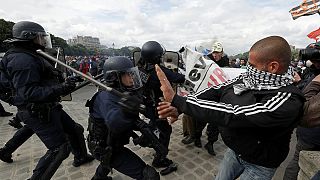 It is being hailed as the biggest show of strength yet against long-contested labour reforms in France.
A million protesters took to the streets of Paris on Tuesday according to trade unions – many thousands more nationwide – to say 'no' to planned changes that would make hiring and firing easier.
Refuse collectors and taxi drivers were among those taking strike action – not to mention the train drivers – and there was an unpleasant surprise for would-be visitors to the Eiffel Tower which was closed for the day as staff stopped work to join the protest.
That was a particularly bitter pill to swallow for those who had travelled from afar.
One German visitor said: "We are here, amongst other things, to watch the football. We also want to visit all the Paris sights. But unfortunately we just found out that there is a strike here and also in other places in Paris. That's a shame for tourists."
The chaos of strikes was matched by turmoil on the streets as clashes broke out on the sidelines of the Paris march. Riot police fired tear gas and used water cannon as items were thrown at them and windows smashed, with a number of arrests made and injuries on both sides.
This is not the way the host country of Euro 2016 wanted to be seen.
#UPDATE 26 hurt in Paris clashes between police, masked protesters https://t.co/eaJPannxYjpic.twitter.com/iqsw1rdttq

— AFP news agency (@AFP) 14 juin 2016