Prayers and condolences pour in after Orlando shooting
Comments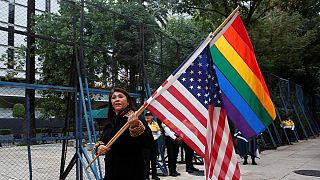 As ordinary Americans across the country try to come to terms with events in Florida, there have been reactions from religious and political leaders alike.
We should not be selling automatic weapons which are designed to kill people

Democratic presidential candidate
Among them the Director of the Council on American-Islamic Relations, Nihad Awad who has distanced Islam from being used as a possible motive for the atrocity.
"This is a hate crime plain and simple. We condemn it in the strongest possible terms. It violates our principles as Americans and as Muslims. Let me be clear, we have no tolerance for extremism of any kind."
U.S. Muslim leaders: "This is a hate crime. We stand with #LGBT people, shoulder-to-shoulder." VIDEO: https://t.co/lQf9ThXPDO#PulseShooting

—

LGBT

News (@mondokoosh) June 13, 2016
Candidates running in the presidential nomination primaries have been quick to react … Democrat Hillary Clinton offered her condolences.
Woke up to hear the devastating news from FL. As we wait for more information, my thoughts are with those affected by this horrific act. -H

— Hillary Clinton (@HillaryClinton) June 12, 2016
While Republican Donald Trump scored a political point calling on President Obama to resign. Berni Sanders criticised the US's liberal gun laws.
Is President Obama going to finally mention the words radical Islamic terrorism? If he doesn't he should immediately resign in disgrace!

— Donald J. Trump (@realDonaldTrump) June 12, 2016
"You know over 25 years ago I believe that in this country we should not be selling automatic weapons which are designed to kill people."
And in Orlando theres been a more practical reaction with hundreds of people queuing to donate blood to help the dozens of victims lying wounded in hospital.
Officials at centre said they had received such an overwhelming response that they had asked donors to come back over the next few days.
bring me to tears how amazing the reaction to giving blood has been to the Orlando shooting

— michelle sikes (@michelle_sikes) June 12, 2016