Mourners call for increased tolerance after Orlando massacre
Comments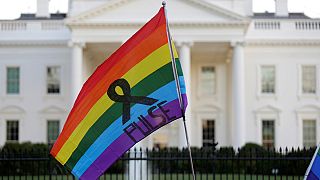 A vigil outside the White House on Sunday night remembered victims of the Orlando massacre.
Across the US similar gatherings of mourners calling for increased tolerance and the end of violence towards lesbian, gay, bisexual and transgender people (LGBT) as well as those from ethnic minorities.
"We live in a country where a leading presidential candidate is banking on anti-Muslim hate, banking on anti-immigrant hate to reach the White House. And so we, as LGBT people who stand for justice for all, must stand for justice for Muslims, for South Asians, for anyone who is targeted by hate, and not just ourselves," said one man who addressed the crowd."
LA Pride
On the US west coast, security was increased at the LA pride parade.
Organisers said "full airport style security" was being used and authorities were being extra vigilant.
"I think it's really important that we actually get out and do that and that we don't let those terrorists and other people actually prevent us from coming out and celebrating what we need to celebrate today which is our freedoms," said one attendee.
Fifty people were killed early Sunday morning (June 12) when gunman Omar Mateen opened fire on a crowd at gay nightclub Pulse in the US city of Orlando, Florida.
Medical workers say the number of victims is expected to rise.