Euro2016 - Marseille prosecutor blames "Russians, trained to fight"
Comments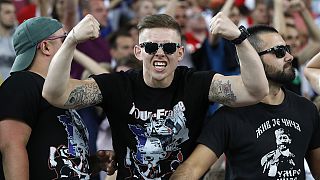 Russians, trained to fight" – Marseille prosecutor
Ten face court proceedings
35 still in hospital, four serious

"Russians, trained to fight"
The chief prosecutor in the French city of Marseille says Russians trained to fight were involved in the worst of the fan violence that erupted in Marseille at the start of the Euro 2016 football tournament on Saturday.
Prosecutor Brice Robin speaks at a packed press conference in #Marseille following #EURO2016 hooliganism. PA</a> <a href="https://t.co/1vrRpWoa34">pic.twitter.com/1vrRpWoa34</a></p>&mdash; Niall Carson (niallcarsonpa) June 13, 2016
"There were about 150 supporters of Russian nationality who in reality are hooligans, who are used to this kind of behaviour and train for it," Brice Robin told reporters at a press conference in the Mediterranean city.
"Some of them arrived at Marignane Airport and were refused entry. Unfortunately, it seems others arrived by different means of transport and they were prepared for ultra-rapid and ultra-violent actions," he added.
In numbers
35 people injured (mostly English)
Four in serious condition
Three days of fighting
English, French and Russian fans involved
6 Britons, 3 French, 1 Austrian in custody
All charged with violence involving a weapon
116 arrests since Friday
63 kept in custody
Three expelled from France
Five refused entry to France
(Figures from French Interior Ministry – read more here (in French)
Court appearances
Ten people are due in court in Marseille.
The six British nationals, three French and one Austrian face charges of violence with a weapon.
Asked why no Russian nationals face a court hearing, Marseille prosecutor Brice Robin said the speed the attacks were carried out has made arrests difficult.
"These are highly-trained people", he said, adding that closed-circuit television is being studied
UEFA

"disgusted"
UEFA, the governing body of European football, says it is "disgusted" by the scuffles inside and outside the Velodrome stadium in Marseille.
It has threatened to throw England and Russia out of the championship if the violence continues.
The issue of alcohol
The violence at the weekend has re-ignited the debate about the excessive consumption of alcohol by football fans.
Interior Minister Bernard Cazeneuve says the sale, consumption and possession of alcohol will not be allowed on match days and the day before in the fan zone areas of places concerned.
On Monday morning, the Rhone regional authority said it would forbid the sale of off-license alcohol to supporters on match days.
Lyon is one of the ten host cities for the tournament.
Belgium are due to play Italy in the city's new state-of-the-art stadium on Monday evening.
What happened?
There were tense scenes in the centre of Marseille, particularly around the Old Port, in the early hours of Sunday morning.
Police tried to disperse crowds of football fans.
The violence began when England and Russia fans met in the narrow streets around the Old Port, throwing bottles and chairs and clashing with French riot police.
Tear gas and water cannon were used to restore order in the city in the hours leading up to the match, which ended in a 1-1 draw.
What they are saying
"There were 150 Russian supporters who, in reality, were hooligans. These people were well-prepared for ultra-rapid, ultra-violent action," – Marseille prosecutor Brice Robin
"The sale, the consumption and the possession of alcoholic drinks is forbidden on match days, the day before and within the perimeter of the fan zones concerned," – said French Interior Minister Bernard Cazeneuve.