Venezuela's Maduro rules out referendum on his presidency
Comments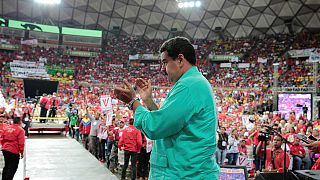 Venezuela's beleaguered President Nicolas Maduro has ruled out a referendum on his leadership from taking place this year, despite growing opposition protests.
Speaking on state television the head of the Socialist Party said "if the recall vote's requirements are met, it will be next year and that's it. If the requirements aren't met, there will be no referendum and that's it."
After more than a month long review, the National Electoral Council decided to invalidate 605,727 votes because of what they described as "irregularities" in forms and registers.
But government critics have accused the NEC of stalling the process. Jesus Torrealba, Secretary General of the Democratic Unity Roundtable said: "One of every three Venezuelans who signed, today has the indignation of being excluded, because their signature is missing."
Maduro is under increasing fire due to a deep recession, the world's highest inflation and massive shortages of food and other basic items.