Libyan forces 'seize control' of Sirte port amid reports of deadly shelling in Benghazi
Comments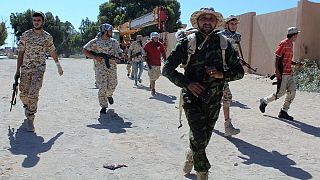 Libyan forces claim to have seized control of the port in the city of Sirte, the most-important ISIL stronghold outside of Syria and Iraq.
The troops, loyal to the United Nations-backed unity government in Libya, are said to have hit positions held by the Islamist militants with air and missile strikes.
Brigades largely made up of fighters from Misrata launched a counter-attack in May.
This week, according to a spokesperson, they have pushed back the militant group along the coastal road between the two cities, despite fierce fighting and coming under fire from snipers.
Clashes in Sirte on Friday (June 10) left 11 people dead and wounded 35 others, according to army sources.
Over 100 fighters from the government-backed brigades have been killed since the bid began to retake the city.
Benghazi
In the eastern city of Benghazi, meanwhile, hospital officials report shelling has killed at least seven civilians and wounded eight.
Unrest and violence in Libya have been rife since leader Muammar Gaddafi was ousted five years ago. The unity government is considered the best hope of uniting political and armed factions against ISIL.